"The night becomes immortal": A band bio
By Justin Joffe
Where does a couple find music for their wedding when the newlyweds are also old souls?
It's a paradox that doesn't get any clearer while searching for the right band. After all, most couples hire a wedding band in lieu of a DJ because live music has played an important part of their lives. But once they start searching, they find the wedding industry flooded bands stitched together by agencies, a Frankenstein hodgepodge of players who don't know each other, and aren't communicating onstage.
For some couples, the deciding factor for their right wedding band is their ability to play "Uptown Funk," and that's just fine. But for the rest of us, praise be, there is The Engagements.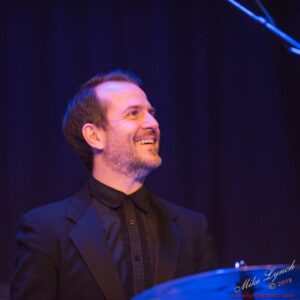 Drummer and MC Aaron Thurston started The Engagements accidentally after several years of booking jazz trios and corporate gigs where his group would just play background music, including a stint as the club level band at Madison Square Garden during Knicks and Rangers games. Then the financial crash happened in 2008, and any budgetary frills were cut.
"Jazz trios were the first to go," Aaron says, "along with the gift bags switching to brown bags with no logos on them."
As luck would have it, right after the steady jazz gigs dried up, a buddy called Aaron and asked if he and his jazz crew could moonlight as a wedding band. The groom's only request was that Aaron play some '80s stuff.
A ton went wrong at that first wedding—the video crew that Aaron hired to film showed up to find a venue with practically no lighting, while the guitar player responsible for calling the song selection got frazzled and dropped song notecards everywhere. But nonetheless, people loved them. Wedding guest Norah Jones even came up and sat in for a couple of numbers.
Soon after, a former bandmate from Aaron's old indie group, French Kicks, called because his wedding band, Dexter Lake Club Band, had more overflow then they could book. Aaron was happy to take Dexter Lake's customer referrals.
"They had been doing it for a few years, and generously shared with me some of what they'd learned," says Aaron. "That was when my band was called the PeeWees, which lasted a couple of weeks. Everyone told me it was an awful name, and I said, 'No, it's great!'
Looking back now, Aaron thinks that he chose such an odd name for the original incarnation of The Engagements because he was afraid of being successful. "I was afraid of actually having a wedding band, so I tried to sabotage it a little bit," he says.
Why was Aaron afraid? Well, for starters, everything he'd heard about playing weddings was a nightmare—especially the stories where musicians show up and don't know anyone on the bandstand. Big agencies had lockdowns on the scene, requiring musicians to audition to be hired guns for these gigs.
"It all just spoke to a disconnect, a lack of intention," says Aaron. "Ultimately, it ends up being the musicians doing a day gig that they don't wanna do."
This is why Aaron's commitment toward being in the wedding band game has helped The Engagements earn a reputation as the complete opposite of an impersonal corporate booking. He counts everyone in this iteration of the band, which has been together for 5-6 years, as dear friends. They travel, share AirBnBs and cook together, living a communal experience normally reserved for the most roadworn touring acts.
"I try to make it as easy as possible for everyone in the band to come be a part of it," Aaron says. "It's not about proving yourself, it's about 'what can i do for you?' When something goes wrong, no one is waiting around for me to figure it out—everyone's a part of it."
"The Engagements is a tribe," adds singer William Berlind. "We all have great love and great respect for each other. It doesn't feel like a regular gig."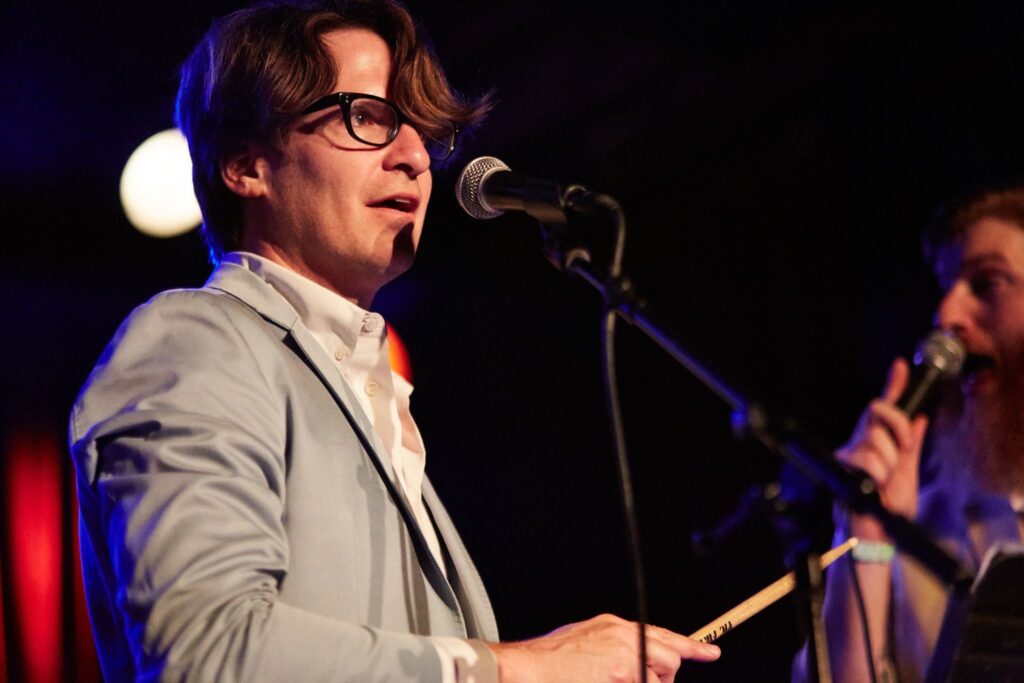 That's the thing-—when bandmates truly communicate with each other, they're communicating with the audience too. That means a better vibe for wedding guests, and a better time for the couple getting married, too.
"I tell clients, my second favorite thing to playing is talking about the music," says Aaron. "Finding out what they're most interested in. Checking out songs on a song list is helpful, but sometimes a lot more can be revealed when you chat about it."
To this end, The Engagements may not be the right wedding band for couples who aren't into having a conversation about what songs are right for their special day. The band will not only enthusiastically learn covers, but slay them all. This writer still talks about The Engagements' perfect instrumental rendition of Neil Young's "'Harvest Moon " that we walked down the aisle to, along with their climactic cover of Sly Stone's 'Que Sera Sera' that closed the reception.
"Your wedding was so great," remembers Aaron. "We're doing 'High Tide or Low Tide,' look around and see all these heads of different ages singing, knowing the words. That's the kind of stuff we feed off of, because that's how we know people are listening."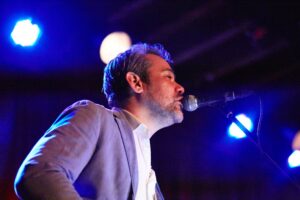 "When the vibe is right," says William, "our shows reach Dionysian levels of ecstasy—band and audience become one and the night becomes immortal." This is why, after a night with the Engagements, people tend to talk about the band to their friends. This is why they get almost all of their work from word of mouth.
"There have been moments where a couple requests a song and it ends up sticking with me for months because of how fun it is to play," says guitarist & singer Emil McGloin. "For example, we had a request for 'Like A Virgin' not that long ago. Butterscotch (John Bennett) ended up singing it with this beautiful falsetto and, wow, it ended up taking this entirely different vibe and becoming one of my favorite moments of the year."
"You know it's hot when you get this band of seasoned veterans smiling," Emil adds. "That's a sign that you're doing something right with the song. And that kind of thing happens a lot with this band."