UPDATE: We had a blast with everyone that came out!!! This is our annual dance party throwdown, and this year's was sold out, to the MAX !!!! Thank you all! We got some footage which we'll post as soon as wedding season dies down. Hope to see you all again soon!!!
————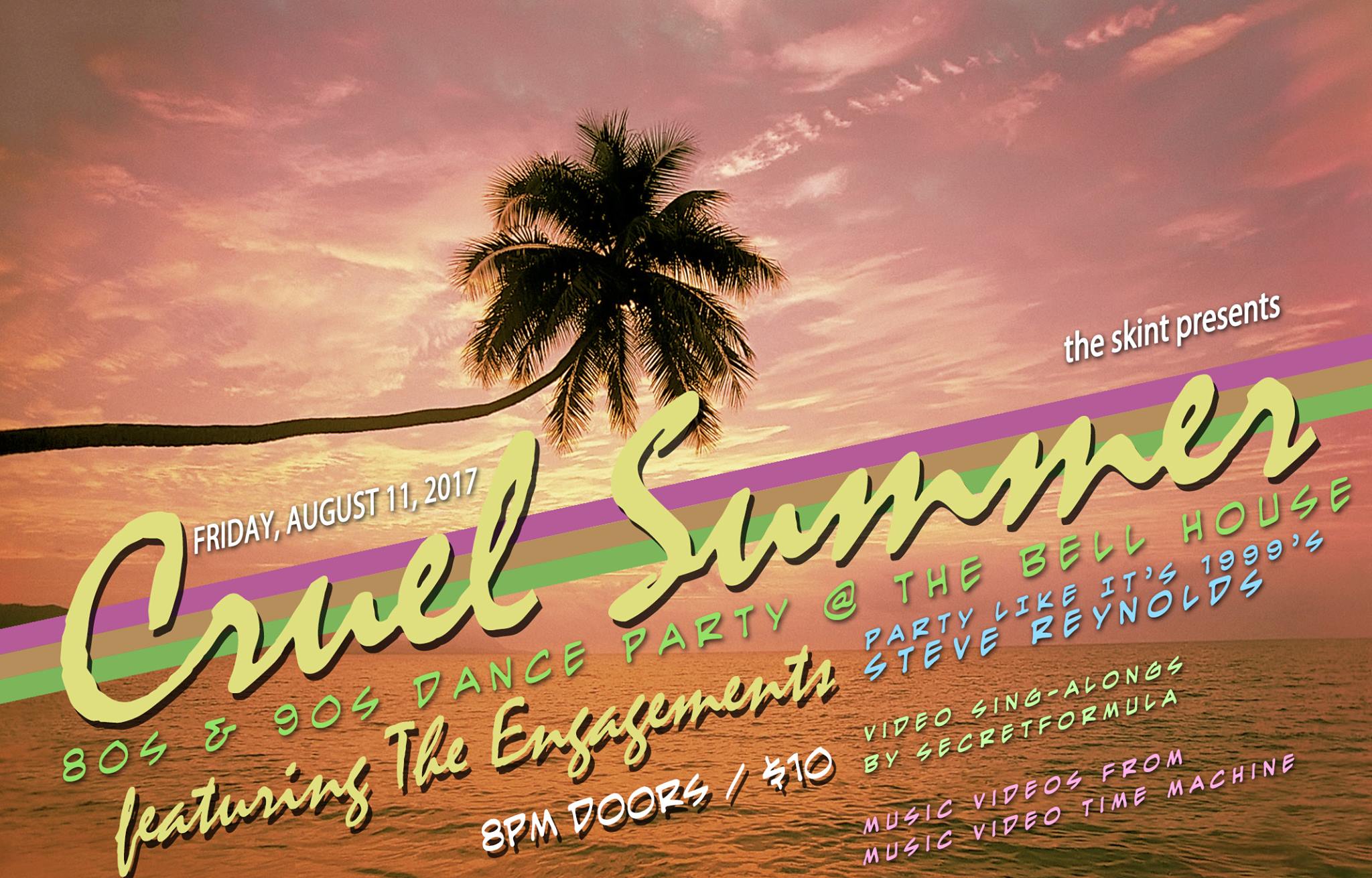 Friday August 11th
The Engagements brings you the 80s dance party you've always wanted.

Performing songs by The Cure, Simple Minds, Hall N Oates, Cameo, Michael Jackson, Prince, Madonna, GoGos, George Michael, & more.
The Bell House, Brooklyn, NY
Come party with "The premier '80s-covering wedding band." (Paper Mag)

After party and DJ break sets featuring all of your '90s favorites by Party Like it's 1999 Steve Reynolds.
the skint presents:
Cruel Summer 80s & 90s Dance Party
Friday August 11th. 8pm-2am
The Bell House
149 7th St., Brooklyn (btwn 2nd and 3rd Ave.)
The Engagements is an "alt-wedding band" based in Brooklyn, NY that plays a lot of 80's covers, along with rare soul and Motown.
"The eleven instrument swappers who crowd The Engagements' stage can do straight-up hits, but they'd rather be rocking 'This Charming Man.'" – New York Magazine
"The premier '80's-covering wedding band." – Paper Mag
The Engagements players have logged hours in the studio and on the road with the likes of Sharon Jones and The Dap-Kings, Steely Dan, Harry Belafonte, Mali Music, Kat Edmonson, Dr. Lonnie Smith, Robin McKelle, French Kicks, David Byrne, Slick Rick, The Sweet Divines, John Forte, Michael Bublé, Mobb Deep, & Aloe Blacc.
They join forces as The Engagements to bring you the 80's dance party you've always wanted.