2ND UPDATE: Another Undead '80's Zombie Prom is in the works, but the sequel is coming at you ON A BOAT.  It's the Rocks Off Concert Cruise series, and we're headling on Friday, Sept. 28th, 2012.  More info here!
UPDATE:  "One of the best parties in the history of parties…  …One of the best cover bands in the history of the Universe." – GowanusYourFaceOff.com
Wow.  Friday the 13th.  What a fun night at The Bell House.  Thanks to each and every zombie who came out.  We were moved by how many people came decked out, despite the freezing cold Brooklyn weather.  Y'all were getting down!
Recaps here:  Village Voice /   Gowanus Your Face Off Blog
Here's our official 2012 Undead 80s Zombie Prom portrait! –  Photo by Paul Quitoriano.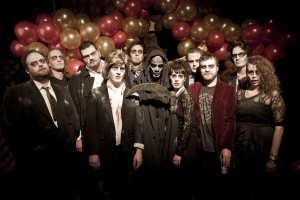 PREVIOUS:
Guess what? We're psyched to be heading back to THE BELL HOUSE in Brooklyn on Friday, January 13th.
That's right – FRIDAY THE 13TH (!!!)
This party could be the death of us all.
1/13/12 = ZOMBIE PROM
Turns out we've been quarantined and left for dead since the late 80's, along with the students of Gowanus high school.  We were originally hired to play the 1989 Gowanus high winter formal, but alas, things went horribly, horribly wrong.  From The Gowanus Star: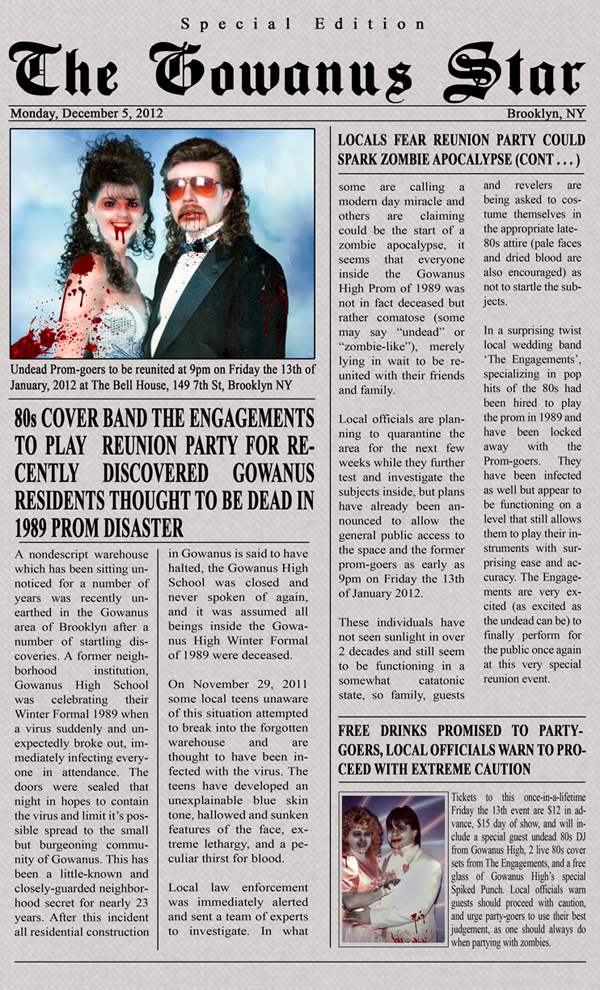 So we're going to party like it's 1989.
We plan on digging into a couple of thick 80s dance sets.
We hope you'll join us, and our 10-piece 80s cover band, on 1/13/12.
Tix are $12 in advance, which includes a free drink. Buy tix HERE.

Facebook Event Page HERE.
Here's "Let's Dance" from one of our "pre-virus" shows.